Keep Safe Scheme
Keep Safe Scheme
Information obtained from http://www.northantspfcc.org.uk/keep-safe-scheme/
The Keep Safe Scheme is for anyone who has a disability, condition or illness and may need to access help or assistance when they are away from home.
When a person registers for the Keep Safe Scheme they are given a card that has their information, emergency contact details and how best to help them when they need it. The person can then carry the Keep Safe card with them and if they need any help, whoever they choose and feel safe to show the card to, can provide them with the appropriate help as outlined on the card.
The card folds down into a wallet you can keep in your pocket or bag. The card looks like this: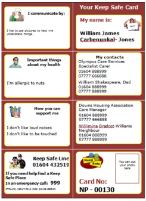 There are businesses, shops and organisations in the county who support the Keep Safe Scheme. If you see the Keep Safe logo in the window it means that the staff there know about the Keep Safe Scheme and are happy to help card holders. However, if a person needs help in an emergency we advise they go to the nearest open place and ask the staff there for help using their Keep Safe card.
When a person registers for the scheme the information they provide is also held on a secure database and is only used to keep you safe when required. This is only accessed by the partner nominated to hold the information and the three emergency services; Northamptonshire Police, Northamptonshire Fire and Rescue Service and East Midlands Ambulance Service. To apply for card, please click here
The partners working on the Keep Safe Scheme, who will process the application, provide the Keep Safe card and carry out a yearly audit are as follows;
Age UK, Autism East Midlands, Mind, Northamptonshire Association for the Blind, Northamptonshire Carers, Northamptonshire Healthcare Foundation Trust and Northamptonshire Police.
For further information about the Keep Safe Scheme you can watch this video which shows the relaunch of the scheme, funded by the Office of Police and Crime Commissioner.
You can also download a copy of the leaflet promoting the Keep Safe Scheme by clicking here
For further information about the Keep Safe Scheme please email keepsafecard@northants.pnn.police.uk
There are other schemes that are like the Keep Safe Scheme around the country. You can search for locations on the Safe Places website. Even if there isn't a Safe Places Scheme in a town it will still be helpful to show your card to someone if you need to ask for help.
You can show your card to anyone you can make you feel safe. This includes Police Community Support Officers, shop staff, or people working in public buildings like libraries, council offices or GP surgeries.