Asymptomatic testing
Why do asymptomatic testing?
We must all use the tools available to us to combat the transmission of covid-19. These tools range from vaccination, symptom testing, improving medicines, self-isolation regulations and non-pharmaceutical interventions like hands - face - space. Asymptomatic testing is a further tool to help mitigate the transmission of covid-19.
On it's own asymptomatic testing will not prevent the transmission of covid-19 but used with the other tools available to us it will help us to:
identify and help prevent staff, students and pupils without symptoms from transmitting and spreading the virus unknowingly
allow schools to operate as safely as possible by self-isolating those that are the most contagious
Asymptomatic testing is done via a quick tests, known as Lateral Flow Device (LFD) tests. They help us test without the need for a laboratory. No test is 1005 accurate, but when done as part of a testing regime t is good at picking up those that are the most contagious.

Testing is voluntary. Your child can still attend school even if they do not participate in testing.
Getting ready to return in September 2021
If you are a parent of a secondary aged child you should have received a letter about asymptomatic testing and the return to school in September. The Government are asking secondary schools to test all pupils on-site when they return following the summer holidays. This approach is based on the latest public health advice with the aim of helping us break chains of transmission in education settings after the summer holidays when pupils may have been mixing with lots of people. The Government are also asking that schools encourage pupils to continue twice-weekly testing at home in the autumn, following the two initial on-site tests. All the education workforce will also continue to test – twice-weekly at home – on return in the autumn term. Government will review the continued need for testing, based on public health advice at the end of September.
Asymptomatic testing during the Summer holidays and September 2021.pdf
Home Testing
Initial tests will be carried out at school. Home testing kits will then be sent home.
https://assets.publishing.service.gov.uk/government/uploads/system/uploads/attachment_data/file/957271/COVID-19-self-test-instructions.pdf
What is in the COVID-19 Self-Test Kit?
Your child will have been given a pack of self-tests. Each pack contains 7 separate tests, which is enough to last for 3 weeks.
You will also have a separate instruction leaflet.
How does my child do the test?
You will have been given an instruction booklet with the test pack (do not use the one in the pack).
PLEASE READ THE INSTRUCTIONS CAREFULLY BEFORE DOING THE TEST.
It is a swab of both sides the back of the throat and one nostril.
If you child cannot swab their throat, then they can swab both nostrils.
There is a video to show you how to do the test:
https://www.youtube.com/playlist?list=PLvaBZskxS7tzQYlVg7lwH5uxAD9UrSzGJ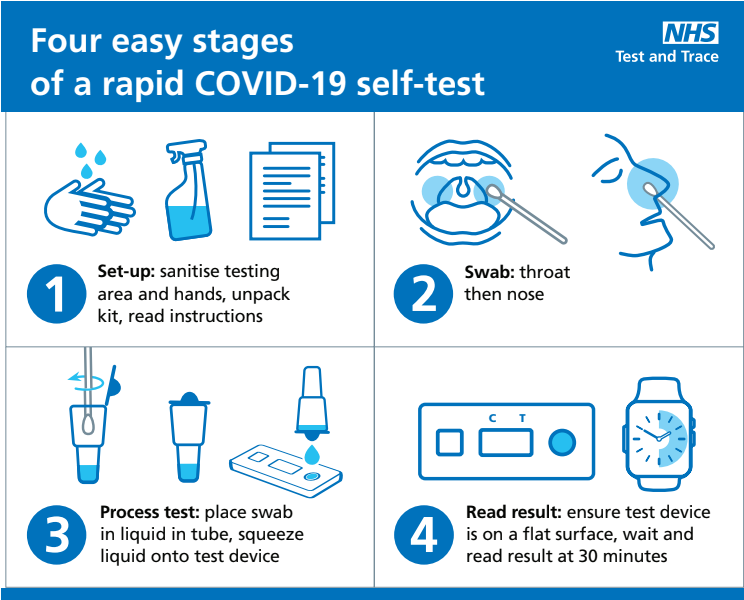 How many tests does my child need to do and when?
You will need to do 2 tests every week.
We recommend Monday and Thursday morning before school.
If this is tricky then Sunday and Wednesday evening before your child goes to bed.
How long does the test take?
It takes 30 minutes to get test results – you will need to use a timer or check the time.
Make sure you leave enough time in the morning to get your test results before school.
What happens if my child doesn't want to do the test?
That's fine. They do not have to do one to come into school. Please just let the school office or class teacher know that they haven't taken their test.
How do I know if the test is positive, negative or void?
The diagram below shows the results. There is information in the instruction leaflet to help.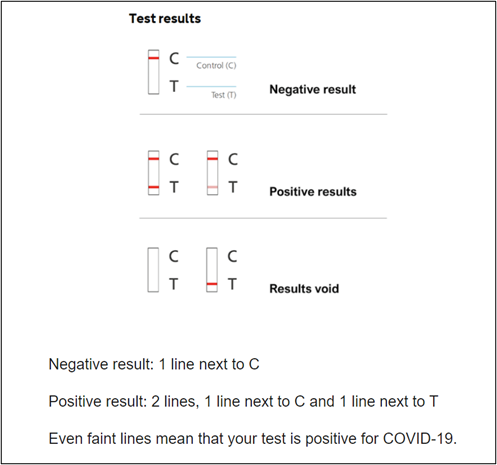 What happens when I get the results?
You need to report all results even those that are negative or void.
You can use a mobile phone or a computer to report your results on
https://www.gov.uk/report-covid19-result
or 119 by telephone
You can set up an NHS account so you don't have to enter your child's details every time you do a test – follow the instructions.
What if the test is POSITIVE?
You, your child and anyone else in your household will need to self-isolate immediately in accordance with government guidance.
Make sure you report the results:https://www.gov.uk/report-covid19-result or 119 by telephone
You MUST contact the school office to let us know. You will need to get a PCR test from a test centre and follow guidance.
What if the test is VOID?
You need to report the test results on the website www.gov.uk/report-covid-19-result or 119 by telephone and your child will need to do another test.
If you get 2 void results you need to book a PCR test at a test centre.
What if the test is NEGATIVE?
You need to report the test results on the website www.gov.uk/report-covid-19-result
or 119 by telephone'
Please let the school office know your result so we can keep a record of your tests. This will help us to order more test kits for you when you need them.
If you have any questions please contact your child's teacher or the school office.
A regular testing guide for parents